Liquid Nitrogen Ice Cream
Delicious ice cream and sorbet combinations that are churned in seconds infront of any crowd
We know how important it is to treat yourself once in a while. First we brought you one of life's luxuries in the form of cocktails, now we want to indulge you with something a little more childish.
Ice cream is one of the worlds most popular desserts. From the variety of flavours and combinations ice cream was definitely the prequel to our fascination of cocktails. But we think that there is definitely a science behind a great ice cream, not only the freshness of ingredients but in the process it's made.
We are not prepared to settle for second best, it has to be the smoothest, creamiest ice cream you've ever tasted, and we think we've done a pretty good job of creating it…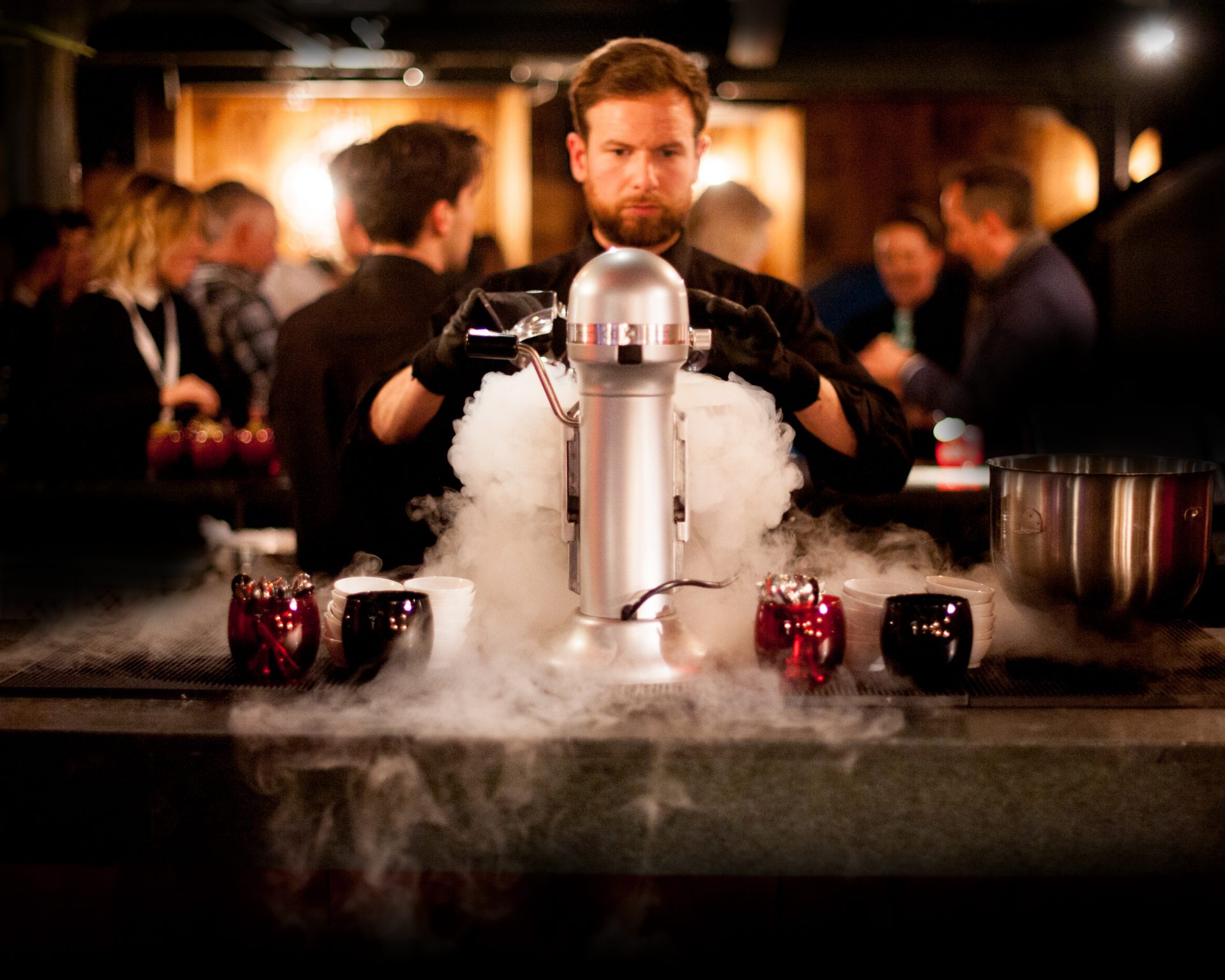 IN DETAIL
Here's The Science
When things freeze, lets take cream as a slightly predictable example, ice crystals form in the liquid making it stiffer. The time in which it takes to freeze is vital: if you freeze something slowly, ice crystals become bigger than they would in a faster freeze. For this reason we use Liquid Nitrogen, at -196C, it quickly forms tiny crystals whilst blending with the cream, leaving you with a much smoother finish. And let's be honest, everyone prefers a creamy ice cream to an icy ice cream.
Is It Safe
Let's clear things up. Liquid Nitrogen is not really known about and the unknown is scary. Molecular gastronomy is becoming more and more popular and liquid nitrogen is used in most of the top kitchens around the world.
You have to use liquid nitrogen with similar precautions to hot oil, and when handled properly, it is just as safe. Yes, they both burn, and no, you wouldn't want to swallow a glass of either but this isn't to say they shouldn't be used for culinary procedures. In fact Liquid Nitrogen is so safe it's even used in medical procedures. We use only fully trained staff who operate with the strictest safety precautions and thoroughly tested equipment to ensure that any dangers are minimised. This coupled with extensive risk assessments and method statements means that you can be sure your event is safe.