GIN & TONIC TRICYCLE
Why not treat your guests to something a little refreshing and different. Our elegant gin and tonic bike is the perfect way to provide your guests with hand-picked gins, carefully paired with the perfect tonic and garnish.
Ideal for summer events, weddings, tradeshows, corporate events and garden parties – we can serve the most refreshing G&T's from just about anywhere.
Summer Pairing Menu
Tanqueray Flor de Sevilla
Topped with Fever Tree Indian Tonic Water and a wedge of fresh orange.
Bloom
Served over ice with Fever Tree Elderflower Tonic, strawberries and mint.
Warner's Harrington Dry
Fever Tree Aromatic Tonic water and a slice of fresh pink grapefruit.
Silent Pool
Fever Tree Mediterranean Tonic, blackberries and grapes.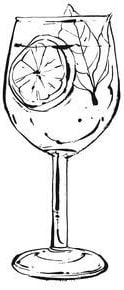 WINTER Pairing Menu
Sipsmith Sloe Gin
Orange bitters, lemon and clementine juice with Fever-Tree tonic water.
Anno Cranberry Gin
Fresh cranberries, orange zest and Fever-Tree Mediterranean tonic water bring this delightful spicy number to life.
Caorunn Gin
Fresh apple and orange, cinnamon and cloves with Fever-Tree Indian tonic water.
Hayman's Old Tom
Dash of limoncello, fresh thyme, Sicilian Lemon tonic water and dehydrated lemon wheels.
Our Standard package includes 2 x Highly Trained Bartenders Premium Gin & Tonic Pairings All Served From a Professional Bar
Our Standard package includes
2 x Triketenders
1 x G&T Tricycle
First 100 G&Ts
Delivery and setup to London
We arrive 2 hours before event service start
Please note, we have the right to refuse any booking and will refund any booking deposits that we can not fulfill.
Our package includes 1 x professional barista, ready to serve up unlimited cups of delicious, freshly brewed coffee at your London event. We pride ourselves on using only the finest, ethically-sourced coffee beans and state-of-the-art equipment to ensure each cup is of the highest quality.
Our full-time professional event baristas can serve approximately one drink per minute, allowing us to potentially serve up to 500 drinks in total during a busy day at an event with constant and spread-out service. However, we understand that some events may require a faster service, and that's why we offer the option to add an extra barista. By doing so, we can turbo charge the amount of cups we can get into hands, effectively doubling the drink output and significantly reducing queuing. This ensures that all guests receive their drinks quickly and efficiently, making it a seamless experience for everyone.
If you have an event that is over 1 day long or you need a bespoke quote for an address outside of London, then please fill in our 'Get A Quote' form and we'll send you a tailored quote to your needs. Additionally if you're event is in the next 7 days, please contact us for availability.
Please also note, we have the right to refuse any booking and will refund any booking deposits that we can not fulfill.
PLAN YOUR EVENT
Start off the journey by filling out our quick form, we'll then send you all the relevant information in an event package. We can then tailor that package to your needs and make sure you're getting everything you need from us. Click below and...