It's important to understand when to establish limits. For the mixologists of the world, that time is now. After reading this you'll never complain that your espresso martini is too watery or your margarita is too sharp again! In fact, you'll be clenching on to those simple if a bit sub-par recipes for dear life. Caution has been well and truly thrown into the wind, so toss aside the rule book and brace yourself for a chilling discovery of some of the wackiest cocktail ingredients that exist in the world today… if you think you can handle it.   
Pig's blood
In 2014 bartender Jason Brown of Chicago's Kinmont restaurant and bar concocted this cocktail after listening to a Werewolves of London lyric about a werewolf drinking a Piña colada. Naturally the "Werewolves of London" cocktail combines Bombay Dry gin, Pimms No. 1, pineapple juice, coconut syrup, and pig's blood.   
Bombay Dry gin 

 

Pimms No. 1 

 

Pineapple juice 

 

Coconut syrup 

 

Pig's blood

 
Daring Digits
The rules go, "You can drink it fast. You can drink it slow. But your lips must touch that gnarly toe." The Sourtoe cocktail challenge gains your membership into the Sourtoe Cocktail Club at The Sourdough Saloon in Dawson City, Yukon. But at what cost? The recipe is simple to follow; a shot of whiskey, garnished with one authentic mummified human toe.   
Caution not to make the same mistake as a few dozen before you who have accidentally swallowed the toe; not only will your body be heavily taxed you'll also owe the Sourdough Saloon a $500 fine. As the original toe saw this fate, it is now generously supplied by the good people of a local amputation clinic.   
Fried Chicken
You must be clucking mad! The Chicken Fried Bloody Mary, an invention of Sobelman's Pub & Grill in Milwaukee, compromises a large jug containing over 80 ounces of Bloody Mary and is garnished with cheese, pickles, olives, sausage, prawns, onions, asparagus, mushrooms, lemon, brussels sprouts, 'baconadoes' (skewers of bacon-wrapped jalapeño cheese balls) and an entire fried chicken. Not to forget a few obligatory stalks of celery; life is all about balance after all.   
Ambergris 
Ambergris is a hardened and desiccated excretion collected from a sperm whale's bile ducts. Combined with the correct proportions of rye, syrup, and bitters and you've got yourself the perfect Moby dick Sazerac! The tale goes that the drink was created by the groundbreaking mixologist Ryan Chetiyawardana and was once available at his infamous Mr. Lyon bar in London.   
Heavy 2 ounces rye, preferably Mr. Lyan 

 

Heavy 1/3 ounce simple syrup 

 

Heavy 1/4 ounce water 

 

4 dashes Peychaud's bitters 

 

1 gram ambergris 

 

Garnish: strip of rice paper coated in absinthe 

 
Mighty meaty  
Meatequita tell me what's wrong…how long have you got? Tequila, chorizo, vegetable juice, balsamic vinegar, port, pepper, and sea salt are all blended into a margarita glass, before being garnished with a strip of beef jerky. How delicate.  
Tequila reposado infused with chorizo 

 

Vegetable juice 

 

Balsamic vinegar 

 

Smoked sea salt  

 

Pepper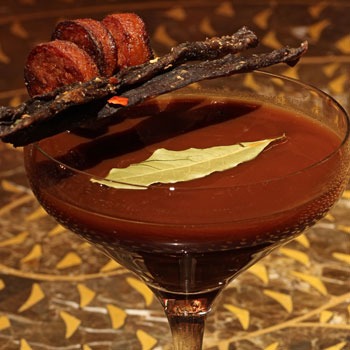 Salmon
And as if that wasn't fishy enough, to accompany the carnivorous cocktail on the drink's menu at Shaka Zulu in London, the Wheeling salmon provides a maritime alternative. Comprising of smoked salmon-infused vodka, lemon, pepper, and ice.    
1 1/2 ounces salmon-infused vodka 

 

1 ounce Bianco vermouth 

 

1/2 ounce gin 

 
The Tapeworm
Vodka, tabasco, and black pepper are mixed in a shot glass, before a squeeze of mayonnaise is left to snake to the bottom, to resemble an alien parasite. I don't care if it's Heinz.   
1 ounce vodka

 

1/2 ounce Tabasco sauce

 

Black pepper

 

1 tsp. mayonnaise 

 
Worm salt
When sipping their mezcal, Guatemalans, (known for opting for a touch of eccentricity) swap in your bang average, run-of-the-mill table salt for something a little more left of centre. A pinch of sal de gusano or 'worm salt', crafted from salty, roasted ground-up worms compliments their smoky beverage.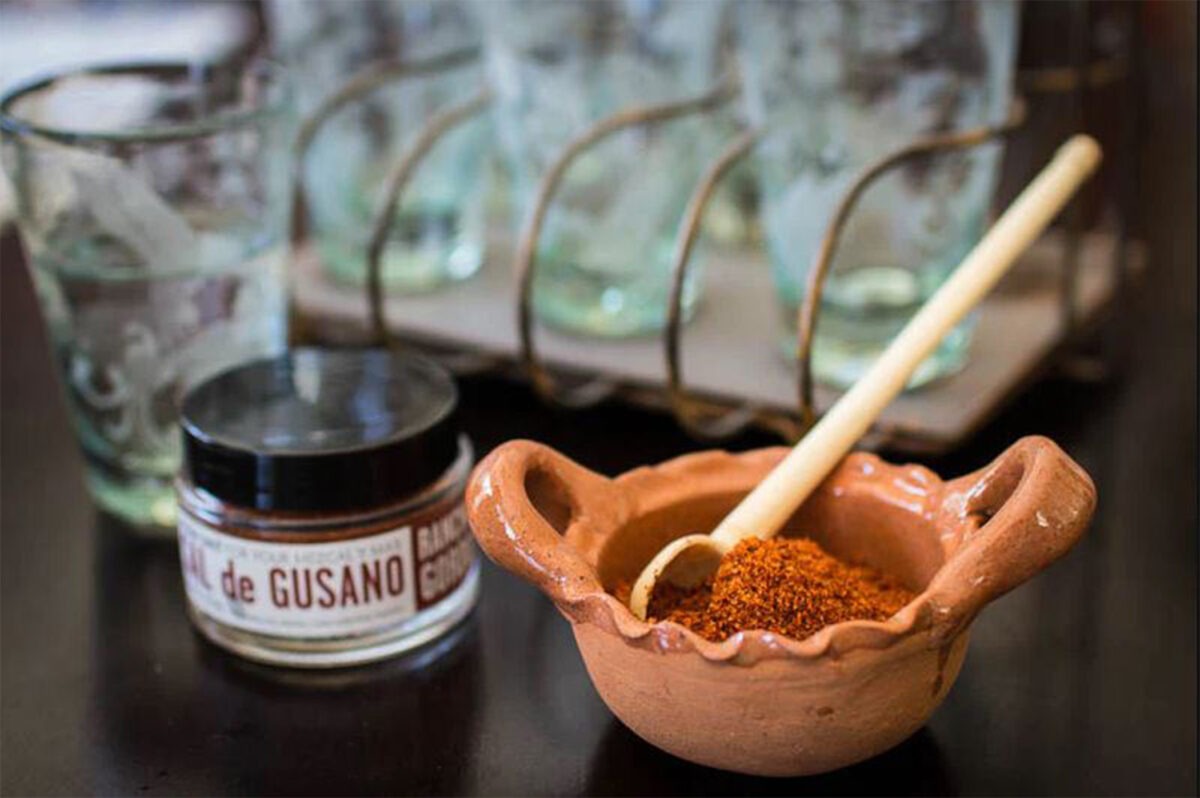 Hormigas culonas
Moving up in the world of invertebrates, from Colombia comes the Hormigas culonas Mojito, featuring the elusive "big-bottomed ants."  Fried or roasted, these nutritious insects are packed with protein and low in saturated fat- put that in your pipe and smoke it! Harvested in spring, these ants, from the Santana region, only come out of their nests one or two days a year so be sure not to miss the boat on this exclusive treat.   
1½ ounce white rum 

 

6 mint leaves 

 

Soda water 

 

1 ounce fresh lime juice 

 

2 teaspoons sugar 

 

Ice 

 

Ants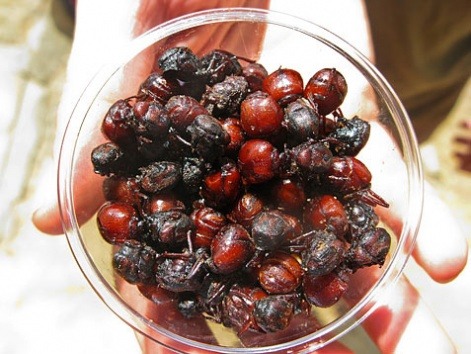 Here at Exquisite Cocktails, we like to push the boundaries and dance with danger as much as the next person. If any of the above does take your interest we do offer a completely bespoke service, however, we can assure you our expert team of mixologists can come up with a signature cocktail that won't disappoint and doesn't tend to leave people longing for preserved human body parts or fried invertebrates.